The Brandon Valley Area Chamber of Commerce was founded in 1989 by a group of energetic and motivated business leaders in Brandon, SD. Throughout the years, the Chamber has grown from a small group of local businesses to more than 275 diversified businesses of all sizes throughout the Brandon, Valley Springs and Sioux Falls region.
To be the primary advocate, voice, and resource for businesses & organizations in the Brandon Valley area.
To accomplish our mission, we will:
Use our resources to be an influential regional leader to encourage, support, and foster the free enterprise system
Work to maintain and improve the area's quality of life
Maintain strong support for our existing industries
Continue to promote and support economic development
We want to be a leading force for growth of the Brandon Valley community.
Over and over again, the chamber meets the challenge of providing for the needs of the business community, promoting business, carefully addressing the needs of our members, and involving ourselves in our community to enhance the quality of life in the Brandon Valley area.
If you are a businessperson looking for a local connection, the Brandon Valley Area Chamber of Commerce is the place for you.  If you are someone who needs information, we're the place to find it.
Call us at (605) 582-7400 on weekdays from 8:00 a.m. – 5:00 p.m, or email us anytime at admin@brandonvalleychamber.com.
We look forward to hearing from you!
Meet our Staff: Team Rachael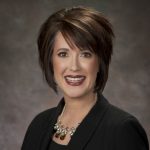 Rachael Neiman is our Executive Director. She joined the Chamber in October of 2019 as the Membership Manager and quickly moved into her new role as the Executive Director in January of 2020. Rachael wears many hats as our membership director and board liaison.
Rachel Polan is our Communications Coordinator. They joined the Chamber in July of 2019 part time, and moved to full time in October of 2020. They oversee the BVACC's online presence and marketing for events and promotions. When you call into the office, chances are you will hear their voice.