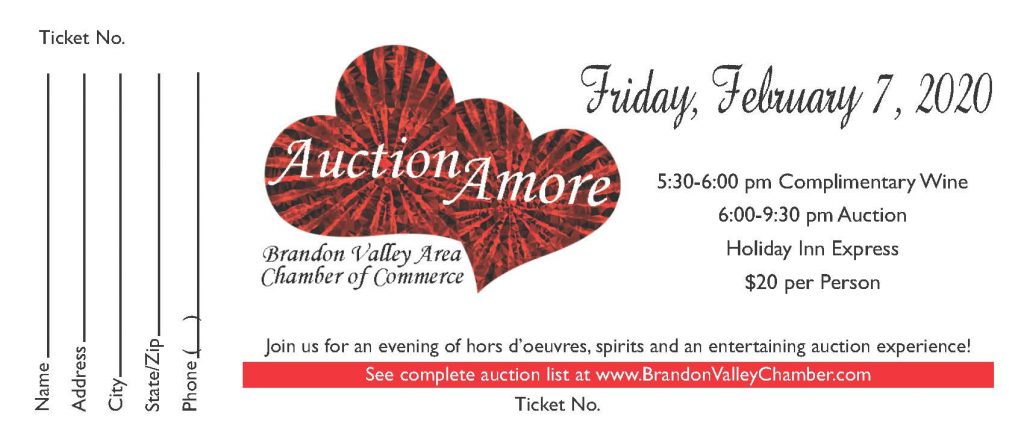 Auction Amore 2020
February 7, 2020 5:30-9pm
Holiday Inn Express
Join us for wine, a silent and live auction, new games, and some re-vamped old favorites!

High School Scholarship
Apply for one of our $500 Scholarships!
The Brandon Valley Area Chamber of Commerce awards scholarships of $500 to graduating seniors of the Brandon Valley School District in 2020. The number of scholarships is based on the income of our annual Auction Amore event in which 10% of net proceeds will be given to this worthy cause.
Applications due by March 31st.
Welcome to the Brandon Valley Area Chamber!
Welcome to the Brandon Valley Area Chamber of Commerce located in Brandon, South Dakota. Our mission is to be the primary advocate, voice and resource for businesses and organizations in the Brandon Valley area. Our vision is to be a leading force in the growth of the Brandon area community.
The Brandon Valley Area Chamber of Commerce office is located in Splitrock Square at 306B South Splitrock Boulevard in Brandon, South Dakota. We invite you to stop in between the hours of 8:00am to 5:00pm, Monday through Friday, to meet our friendly staff.
An A-Z listing of nearly 300 local businesses in the Brandon and Valley Springs area. Quickly get addresses, phone numbers, hours, reviews, websites and more in our easy to use index.
Business Directory
CHECK OUT THE LATEST ISSUE OF THE CHAMBER'S INSIDE BRANDON MAGAZINE!
In an effort to continue to serve our members and our community, this magazine was created as a useful reference and an informational tool for Brandon residents.
IN THIS ISSUE...
06    Brandon Valley School Calendar
19    Lawn Watering Schedule
20    Core Area Reconstruction: Cover Story
28    City Winter Ordinances
34    Chamber Member Directory
This is the place to learn more about upcoming events as well as great tips and strategies on an array of business topics. We also publish a feature article on a member business on the last Friday of each month!
Chamber Blog Posts
Be a part of something bigger for you and your business. Join today and find out more about all that membership with the Brandon Valley Area Chamber of Commerce has to offer!